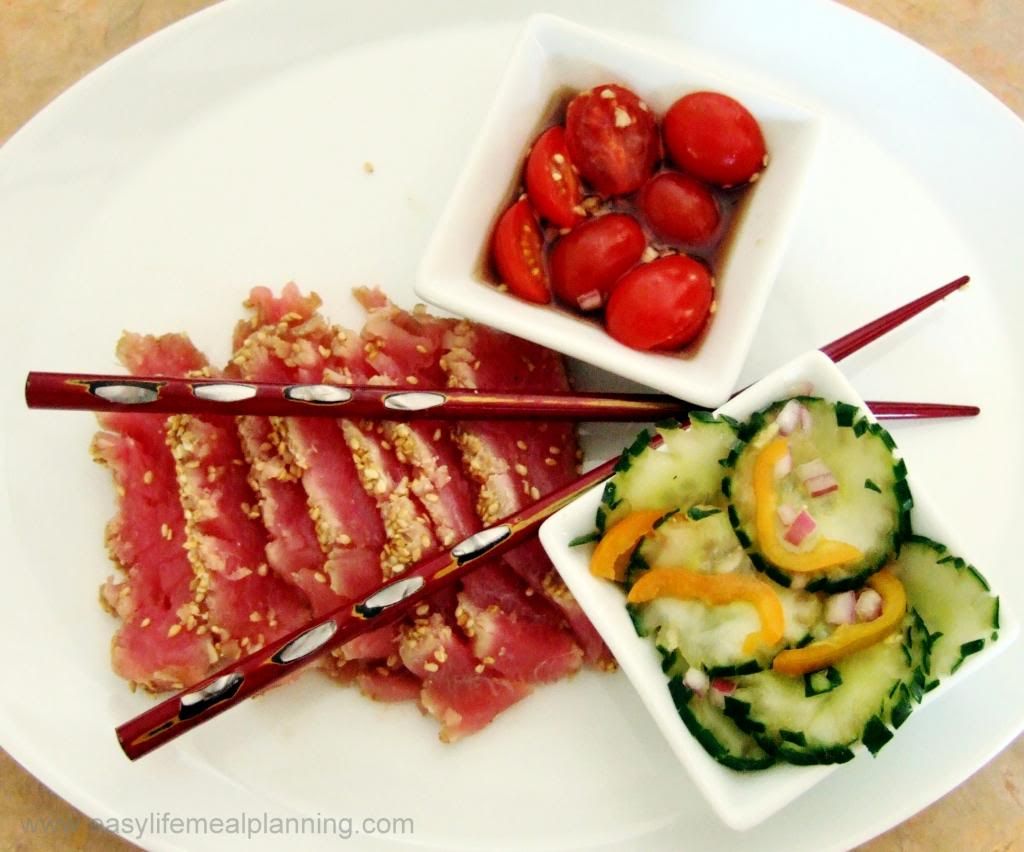 Florida can be very hot and humid, therefore finding a light lunch is sometimes what you need when faced with a wall of humidity. One of my favorite places is the Tiki Bar down by the port. They have one of the best Seared Ahi Tunas, and of course with a nice Pinot Grigio I am in heaven. As usual I wanted to recreate their recipe. They serve it with a seaweed salad, which I love, but I couldn't find a place that carries it. I decided on my Cucumber salad, such a great idea! It gave it just the tartness and sweetness needed, with a little Asian flavors drafted from the Ginger, Sesame oil and Soy Sauce. If it's a little hot for you, try this recipe, you will love the flavors.
Print It
Seared Ahi Tuna
6 oz. - Tuna Steak
2 Tblsp. - Sesame seeds
3 Tblsp. - Soy Sauce
1 Tblsp. - Sesame Oil
Whisk soy sauce and oil together and marinate tuna for about 15 minutes, turning once. Place sesame seeds in bowl and dip tuna in them covering on each side. Heat up griddle or grill on medium high heat and sear for about 1- 2 minutes on each side.
Cucumber & Tomato Salad
2 - Cucumbers, sliced or diced your choice
3/4 cup - sliced Grape Tomatoes
1 - Small Yellow Pepper, you can use red or green
1 - Small Purple Onion, diced
1- 2 Tblsp. - Soy Sauce
1/2 tsp. - Grated fresh Ginger, you can use less or more depends on taste
1/4 cup - Red Wine Vinegar, you can also use Rice Vinegar
1/4 cup - White Sugar
1/4 cup - Canola Oil
1 Tblsp. - Sesame Oil
salt and pepper to taste
Sesame Seeds for Garnish
Whisk together soy sauce, ginger, vinegar, sugar, oils and salt and pepper, whisk until sugar has dissolved, set aside. Chop all ingredients and place in bowl. Cover with Oil-Vinegar mixture and refrigerate for at least an hour.
Authored by
+Shawna Williams