Thanks to Jagrut's Cooking Odyssey,
http://www.jcookingodyssey.com/
I get to share this most wonderful mango recipe.
Kachi Keri aur Pyaj Ka Kachumber - Raw Mango and Onion Relish - Mango Mania

.
I enjoyed the many recipes on the blog, but the story of her mother making this during the hot summer months was very intriguing. The one thing I will say it is Delicious and easy, and so it goes, here is my story.
It all started with a little love in the kitchen between Mr. Red Onion and the very Sweet
Miss Mango. They were introduced by some spicy friends of theirs, one chili powder and cumin seed. Once mixed among the their friends they became a explosion of flavors.
I made the relish as a side to my Mahi Mahi done on the grill, I sprinkled toasted coconut on top and it was remarkably eye rolling good.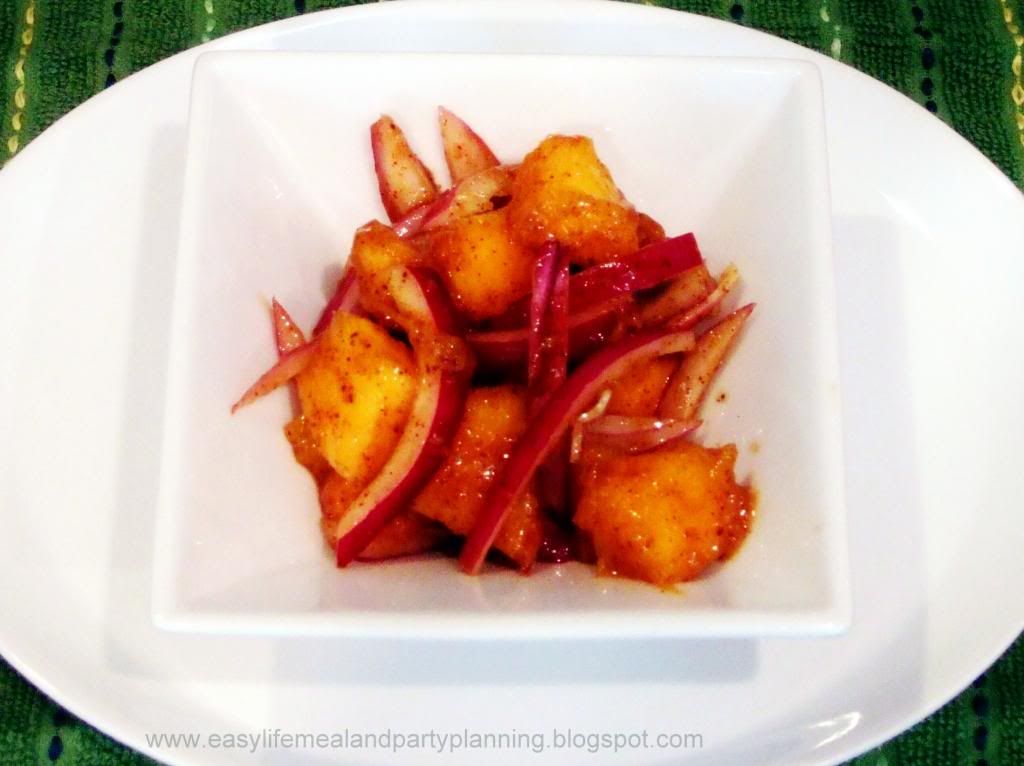 You will need :-
1 raw mango
1 Onion
Salt per taste
1/2 tsp red chilli powder
1/2 tsp cumin seeds ( crused )
1-2 tbsp sugar
Method :-
Wash, peel and dice mango.
Peel and slice or chop the Onion.
Mix together in a bowl, add salt, chilli powder, cumin seeds and sugar.
Mix and leave for 10-12 minutes.
Serve with any meal.
If you are wondering what Surprise Recipe swap is all about, every month a group of bloggers are assigned a different blog, from which we choose a recipe to try. Join us in the fun!
Authored by
+Shawna Williams
Follow my blog with Bloglovin

Tweet