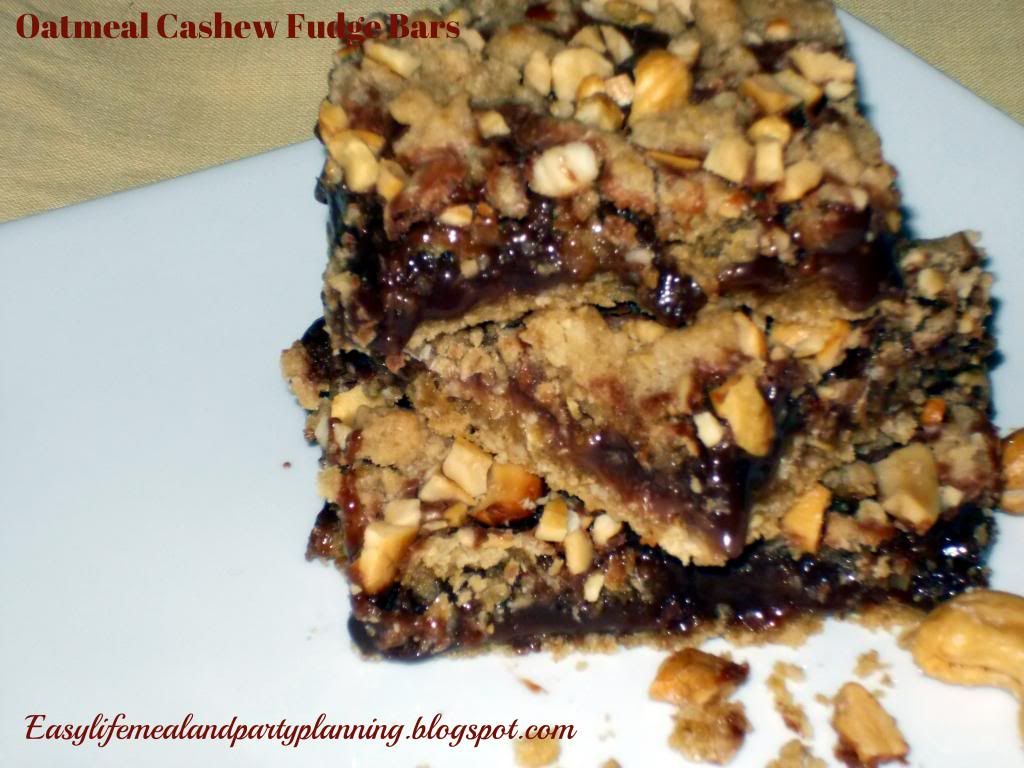 I have been making this recipe forever and it is definitely a favorite especially when I am in the mood for a chocolaty gooey make your teeth tingle dessert. I have to admit I have been a chocoholic probably from the moment I was born. I have a chocolate fix almost every day and to everyone's dismay I refuse to change my ways. So if you are a chocolate lover, then this is the recipe for you.
Print Recipe
Ingredients
Oatmeal bar:
1/2 cup shortening
1 cup brown sugar
1 egg
1 teaspoon vanilla
3/4 cup flour
1/2 teaspoon salt
1/2 teaspoons soda
2 cups oatmeal
(You are going to reserve 1 cup for topping)
Topping:
3 ounces of milk chocolate chips
3 ounces of semi-sweet chocolate chips
1 tablespoon butter
1 can sweetened condensed milk
1/4 teaspoon salt
1 teaspoon vanilla
10-12 whole cashews, chopped
Directions
Preheat oven to 350 degrees F.
Oil or spray a 10 inch square pan.
Oatmeal bar:
Cream shortening and sugar and then beat in beat in egg and vanilla.
In a separate bowl mix dry ingredients together and add to creamed mixture. Beat well.
Stir in oatmeal.
Remove one cup
of mixture to use as topping,.
Press remaining mixture into pan.
Topping:
In a heavy pan mix chocolate chips, butter, condensed milk and cook over low heat until mixture is smooth. Remove from heat and add salt and vanilla. Mix.
Spread over oatmeal bar mixture.
Crumble on reserved mixture and chopped nuts.
Bake for 25 minutes. DO NOT OVER BAKE.
Authored by
+Terri Henkels
Thank you for visiting our blog - hope you enjoyed!
Would love for you to follow!

Tweet