The 1st day of

Fall

starts this Sunday so it won't be long until grilling season will be over for many people. Sad. Well, I have been known, in an act of desperation, to shovel a path through the snow to my grill.
We thought about putting the BBQ Block Party on a respite until grilling season is in full swing again. BUT we really enjoy hosting the party and we love our guests!
Today we are kicking off the new party called the
"Four Seasons Blog Hop Party"
where we can celebrate the greatness that each season brings to our lives.
We will continue to place special emphasis on grilling throughout the year because we are grilling-type of gals!
For those of you who have been with us for the past 17 weeks or even the past few weeks, we hope you stay!! Otherwise we would miss you and all of the wonderful inspirations you give us every week!
Welcome to the Four Seasons Blog Hop Party
Share your food creations, gardening, clever projects, tablescapes, decorations, party themes, and inspirational knowledge ... Ok, you get the point. Join us every Thursday (opens Wednesday evening at 6:00 pm). Please stay for awhile and show some love to the guests, join us in the fun and grab a button.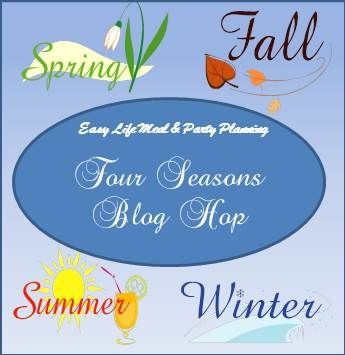 We will share your posts in a variety of ways on pinterest, twitter, facebook and Google Plus. We will also still have features each week too! Be sure to follow our Four Seasons Board on
Pinterest!
By participating in this linky party, you agree to have your posts shared on social media and pinterest and to receive Google notifications for reminders about the party. If you do not want to receive notifications, please let us know.
You are

invited

to join us on Sundays for the

Blog Hop Blitz - 2013 football Season.

We are co-hosting with Tiffany Ben from the Gladiators in Heels blog. You can share posts on football party food, tablescapes, decorations, team gear, and health, motivation and inspiration articles!
PLEASE FOLLOW & SHARE

Tweet